Zero Energy Capable Homes are here!
What is a Net Zero Energy home?
Simply, it's a home that produces enough energy to meet the energy needs of the home. The basic idea is to generate electricity on the rooftop using Solar Photovoltaic Panels and send that electricity to the utility grid. The homeowner earns credit for the power supplied to the grid through a net metering program. These "banked" kW Hours are made available to the homeowner for free when the home needs them.
I've been very fortunate to work with Greenline Homes, a leader in residential New Construction Homes, in the sale of several spec-built Zero energy homes currently being constructed in the Woodlawn Neighborhood. Beginning with the sale of 1361 East Marquette in summer of 2017, these are the first of dozens of homes planned for 2019 Delivery. The homes range in price between from the high 300's to the 700's. The homes that are currently under construction are single family homes, but a two unit home is currently in planning with a three unit on the idea board.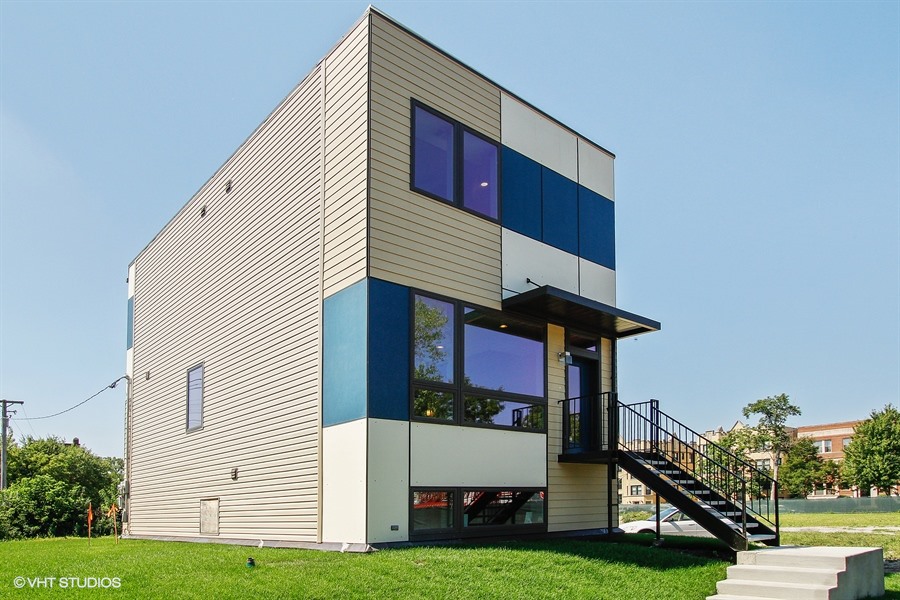 RENEWABLY POWERED
The Bloom house, named for its ability to convert sunlight into energy to power itself, is designed to generate as much energy as it consumes over the course of a year. 25 solar panels generate 10.3 MWh of electricity annually. This power is used to heat, cool, cook, light, entertain, and otherwise power the lives of its occupants. During warm sunny months with long days, the home generates more power than it consumes, providing renewable power to the grid. Thanks to ComEd's net metering program the meter gives a credit to the owner for over production during summer months. In winter, the shorter day and higher demand for electricity draw from the bank of power produced in the summer. The goal is to live carbon free and produce as much renewable power as the home will consume over the course of each year.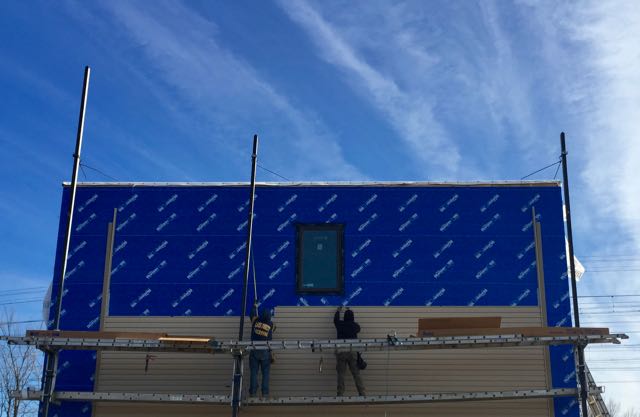 ULTRA EFFICIENT
Thanks to advances in air-to-air heat pump technology, the home heats and cools its interior, heats water, and even dries clothes efficiently using only electrical power. A super tight air-sealed building envelope is achieved with a membrane house wrap system and meticulous attention to detail. Thermal loss is greatly reduced using advanced framing techniques, engineered insulation, triple-glazed R5 windows, and an insulated foundation. This all means that the amount of power this home needs for heating and cooling is much lower than a typical home, leading to lower energy consumption. Reduced energy needs, state of the art mechanicals, and renewable energy production make this home the greenest new home on the market today.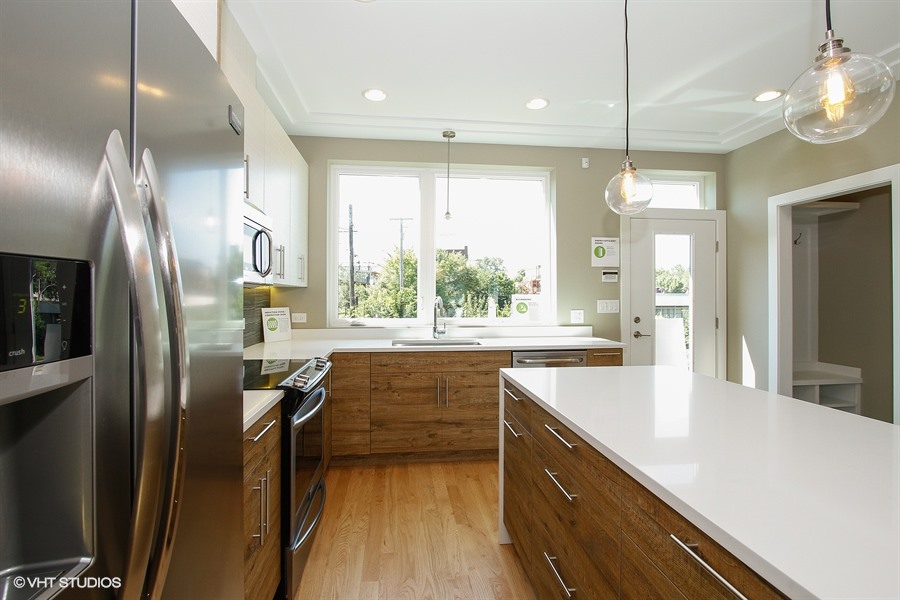 COMFORT BEYOND EXPECTATION
Densely insulated, thick walls, and triple glazed windows make the interior ultra quiet. Two energy recovery ventilators and Panasonic Whisper-quiet bath fans ensure excellent air quality while conserving energy. Well-balanced, engineered, and zoned heating and cooling by Mitsubishi Hyper Heat cold weather heat pumps makes every corner of the home a comfortable place to be.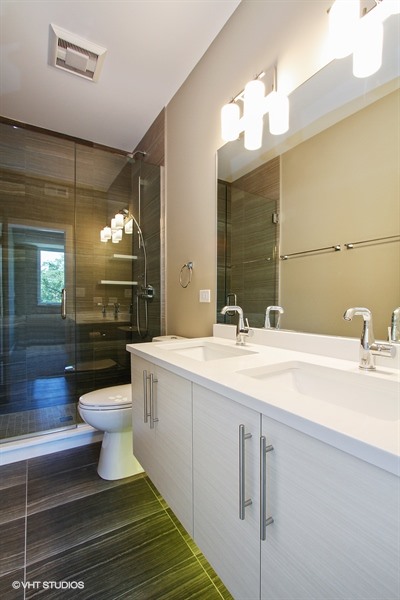 RESPONSIBLE MATERIALS
Hardwood floors and framing from North American forests, locally-manufactured cabinets made from recycled materials, dense-pack cellulose insulation derived from recycled materials, durable quartz counter tops, HardiBoard siding panels, and a TPO membrane roof are just a few of the materials chosen for their durability, sustainability, and reduced ecological impact. Every choice has been considered with sustainability in mind.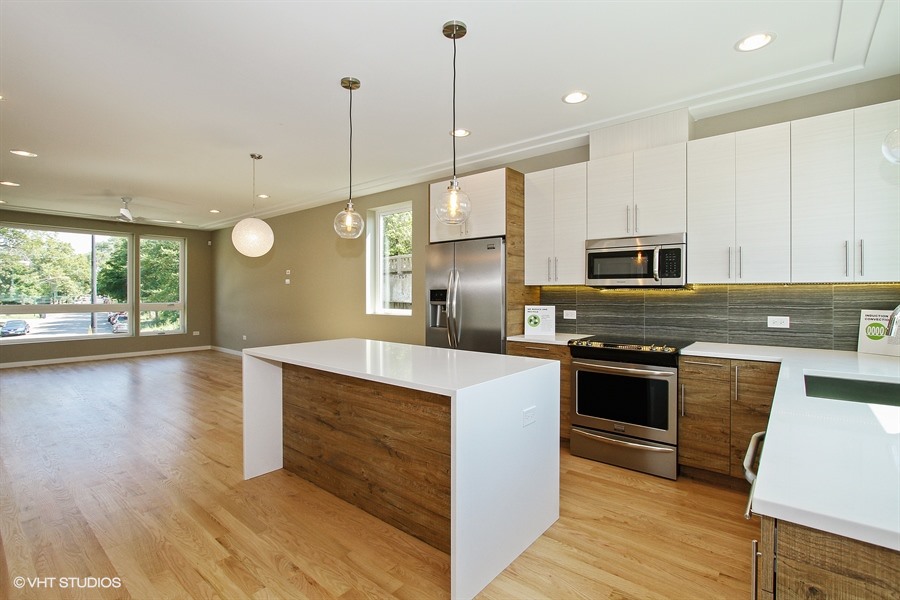 BEAUTIFULLY DESIGNED
All the finishes are chosen for their high quality & design appeal, leading to a home that has a beautiful interior with a very unified feel. Careful attention was given to the floorplan and window placement to ensure the home functions well and is well lit by day. Designer light fixtures and excellent fixture placement perfectly illuminate evenings. Hansgrohe plumbing fixtures, well placed pre-wire for speakers, cable and data make living in a Greenline Home a joy.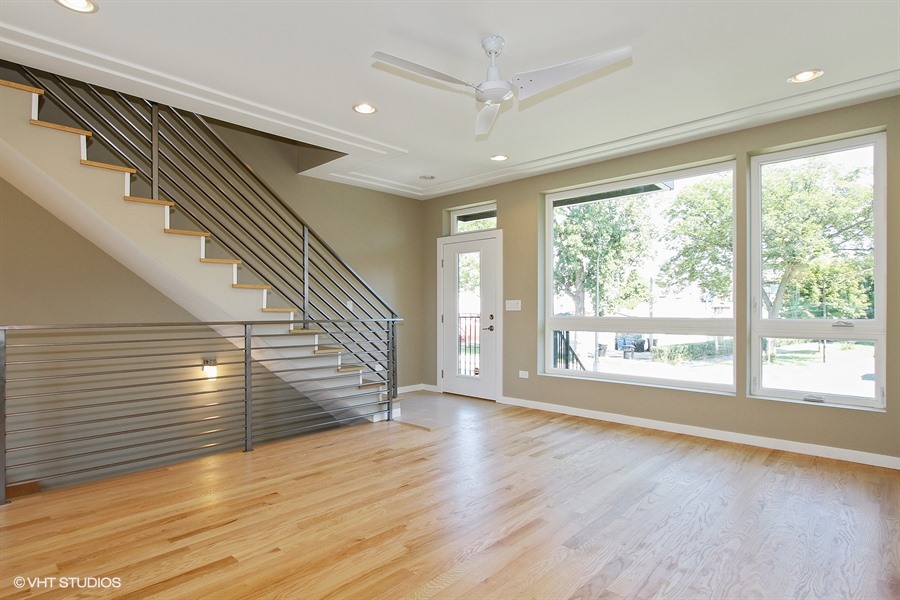 CAREFUL CONSTRUCTION
The home is carefully designed and built. Executing an airtight home requires lots of attention to detail and eliminates mistakes often made in homes that are not built with this approach. The builder carefully monitored the progress of construction, and a third party energy consultant performed energy testing and evaluations at multiple points throughout the process.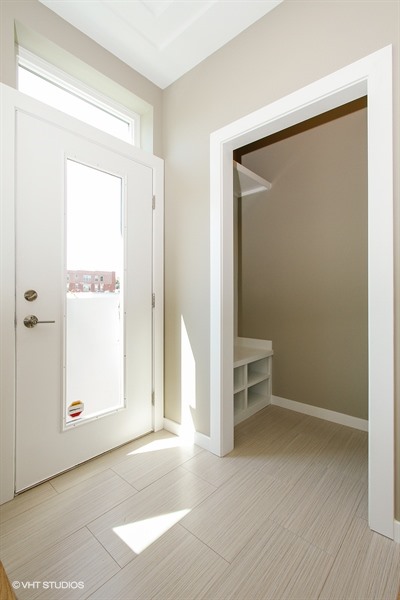 AFFORDABILITY
The home's price point is important. Future homes are planned for Woodlawn and price point will be in the mid 400s. Sustainability has always come with a price, but in this case, it is actually one of the lowest priced new construction homes in Chicago. Add to that the fact that the home is zero energy capable, and you arrive at an important question: "Why aren't all homes built this way?"




THRIVING COMMUNITY
Two blocks west of the lakefront park, just south of Hyde Park and the University of Chicago, Greenline Homes has built the first of a new generation of affordable new construction homes. The Bloom house is within short walking distance to a Metra Electric Station (two blocks), Robust Coffee (5 blocks), the University of Chicago (5 blocks), the 61st Street Farmers Market (5 blocks), the South Side YMCA (5 blocks), and the Stony Island Arts Bank (6 blocks). The neighborhood abounds with community gardens, entrepreneurial spirit, artistic energy, and a deep historical and cultural legacy.


Take the 3D tour here and explore this new home!

Contact me for a showing!